Okay, big entry! With not one, but THREE recipes. This meal was inspired by one of my favorite things: Missouri sweet corn: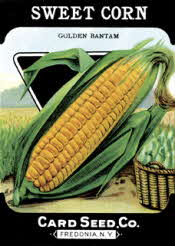 Fresh corn was 4/$1 at the supermarket last week, so I got a HUGE craving for macque choux.
So, if you didn't grow up in Louisiana, you might be asking, "WTF is macque choux and why would I want to make it?"
Essentially, it translates as "smothered corn", or some refer to it as "cajun-style stewed corn". Imagine...the best creamed corn you could ever have. It's also one of my absolute favorite cajun dishes. Buttery, spicy, and creamy...and gawdawful for you, like most truly delicious things.
Thankfully, we have our good friend Chef Jude Theriot to the rescue!
If you ever stumble across this cookbook, I suggest snatching it up. It's 288 pages of pretty-doggone delicious stuff, and a staple in my cooking repertoire.
So, how do we get from a book, to THIS?
Well, since it takes the longest, we start with the macque choux. For 4 servings, you'll need the following:
4 ears of corn
1 tbsp olive oil
1 tbsp butter (or, if you have it, bacon grease. I highly recommend the bacon grease; you'll get a ton of added flavor with the same amount of calories/fat)
1/2 yellow onion, diced
1/2 green bell pepper, seeded and diced
2 cloves garlic, minced
1 large tomato, seeded & chopped
2 tsp cajun seasoning
1 tsp black pepper
1/4 cup skim milk
First: enlist your sweet husband to help with the chopping, including scraping the kernels off the corn. Be sure to get as much of the corn off as possible, including the liquidy "milk", as this will help with the creaminess of the dish.
Heat a large skillet over medium heat; add the olive oil & heat so that the pain gets well coated. Add butter (or bacon grease), onions, bell pepper, and garlic; saute until the onions are translucent, about 2 minutes. Add the corn & cook for about 5 minutes, stirring often.
Add in the tomatoes, cajun seasoning, pepper, and milk:
PREEETTTTYYYYyyyy...
Then reduce heat to medium low, cover, and simmer, stirring often until the corn is tender, about 10-15 minutes.
CORN = SMOTHERED.
-----
So--while that's cooking down, we move on to our fish. The recipe calls for four 6oz pieces of catfish, but any whitefish you have around the house will work fine--we used about eight crappie (which Louisianians refer to as
sac-au-lait
) filets.
You'll need a wet mix & a dry mix for your fish--but first, heat the oven to 450 degrees.
Wet ingredients:
1 egg white, beaten
1/2 cup skim milk
2 tsp hot sauce
Dry ingredients:
1/4 cup corn meal (um...yeah, I totally didn't have corn meal in the house, so I improvised with a box of cornbread mix...it worked okay.)
1/4 cup bread crumbs
1 tbsp flour (if you use the cornbread mix, you can bypass this ingredient)
2 tbsp cajun seasoning
1 tsp dried basil
Combine the ingredients in separate bowls, like so:
Wash the fish filets well, then pat dry; then place into the wet ingredient bowl. Move filets over into the dry bowl & coat well, shaking off excess before you move them onto a baking sheet. If you have a pan with a wire rack, you can use that, or, you can lightly spray a cookie sheet with Pam & use that. Lightly spray the tops of the filets with the cooking spray (butter flavored works best), then place in the oven for 12-14 minutes, or until the fish flakes when touched with a knife:
So while your fish & corn are finishing up, howsabout whipping up a quick creole vinaigrette dressing? (NOTE: this recipe comes from the 1971 Time Life cookbook I talked about in the last blog post.) Super quick & easy. You'll need the following:
This makes about 1/2 cup of dressing (about 8 servings):
2 tbsp red wine vinegar
1 tsp paprika
1/2 tsp Creole mustard (NOTE: I used Tabasco Spicy Brown mustard; Dijon mustard would also work just fine)
1/2 tsp cajun seasoning
6-8 tbsp olive oil
Salt (to taste)
Directions:
Combine all the ingredients except the oil in a bowl & stir to combine. Then whisk in olive oil slowly until no more oil is absorbed by the emulsion. Taste, & add salt if desired.
Serve over mixed green salad.
So what's the damage here?
Macque Choux
Calories: 125 (35 from fat)
Fat: 4g
Protein: 3g
Carbs: 23g
Cholesterol: 3mg
Fiber: 1.7g
Sodium: 115mg
Fish (per serving)
Calories: 388 (72 from fat)
Fat: 8g
Protein: 41.9g
Carbs: 32.6g
Cholesterol: 101mg
Fiber: 0.9g
Sodium: 952mg
Dressing (per serving):
Calories: 73.2
Total Fat: 8.1 g
Saturated Fat: 1.1 g
Polyunsaturated Fat: 0.7 g
Monounsaturated Fat: 6.0 g
Cholesterol: 0.0 mg
Sodium: 122.4 mg
Potassium: 9.8 mg
Total Carbohydrate: 0.3 g
Dietary Fiber: 0.1 g
Sugars: 0.2 g
Protein: 0.0 g
----
So, this was my first time trying all these recipes. Our verdict? The macque choux was to-die for. Already planning to make that again for Thanksgiving this year. The dressing was nice too--different, but in a good way. The bitter, spicy kick really went well with the salad. The fish we were kinda "meh" about--possibly because we used the cornbread mix. It just ended up being kind of sweet. If I had it to do over again, I think I'd make
this pan-fried catfish dish from a previous entry
instead, to tie into the flavor of the mustard in the salad dressing.
So, enjoy folks! Happy Eating!