I have a confession. I have never, ever, cooked beets before. I was one of those people who was exposed to pickled beets at a young age and officially decided, "um…nope. These are not for me." Likewise, I of course assumed that ALL beets tasted like pickled beets. My husband LOVES pickled beets. I try not to hold that against him.
I did start to warm to the idea of beets thanks to Dwight Schrute on The Office. I didn't crave them, mind you…I was just enlightened to all the wonders OF beets. But I still wasn't cooking them.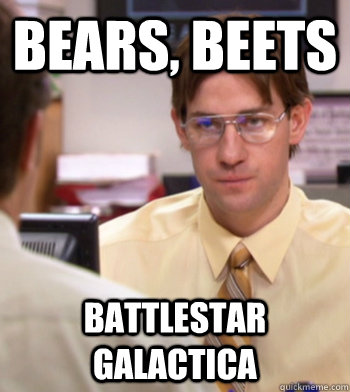 And then Pinterest came along, and showed me this GORGEOUS photo of beet "raw-violi", which is just precious and gorgeous…and somewhat appealing. Okay, okay…maybe beets aren't all bad.
And then…there was Babsy. My dear friend who knows all about gardening and composting and making things like kombucha.
This stuff scares the crap outta me.
She grew beets, and gave me beets. So I had beets. In my fridge. Waiting for some sort of revelation from God as to what in the WORLD to make with beets. Aside from pickled beets, which was entirely out of the question.
And then finally, I just decided, "you know what? They're a root vegetable. I bet they go well with other root vegetables."
Not exactly a revelation, but it's a step! And you know what? Apparently there's some stock in my "like with like" hypothesis, because it was totally delicious, and extremely easy.
Ingredients:
4 red potatoes, washed & cubed
4 beets, washed & quartered
1 onion, cut into 1/2 inch rings, then halved
1 tbsp olive oil
1 tsp fresh rosemary, minced
3 cloves garlic, minced
1 tsp Italian seasoning
1/2 tsp black pepper
1/2 tsp salt
Ya gotta admit…that's a gorgeous color. And it pairs well with the red skins on the potatoes.
Directions:
Preheat the oven to 475F. Place your veggies in a 9x13 casserole dish and sprinkle with the seasonings, then drizzle the oil over top, and toss. The red juices from the beets will probably mix onto your potatoes & onions, but it actually ends up making them really pretty—if you have a finicky kid who likes pink, this could be a good way to get some extra veggies in their system.
Roast in the oven for 15 minutes, then stir, and roast another 30 or until tender.
I was really happy with the results of this. Roasted new potatoes are ALWAYS awesome, and the sweetness of the onions and the beets really played well off each other. And, I mean, this color palette is just amazing.
I totally want to try it again with a larger mix of fall veggies. Perhaps some sweet potatoes or butternut squash, or some purple potatoes?
The texture of the beets is pretty similar to potatoes as well, which makes me wonder… beet fries? Hrmm…
NutriFacts (makes 4 servings):
Calories 203.2
Total Fat 3.8 g
Saturated Fat 0.5 g
Polyunsaturated Fat 0.5 g
Monounsaturated Fat 2.5 g
Cholesterol 0.0 mg
Sodium 373.1 mg
Potassium 325.4 mg
Total Carbohydrate 36.8 g
Dietary Fiber 3.0 g
Sugars 7.6 g
Protein 5.0 g